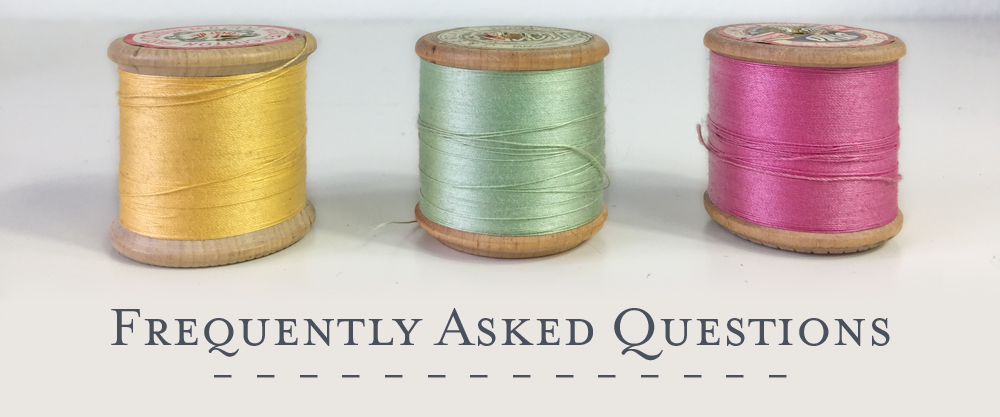 Don't see what you need below? Send me a note to Jen@JenniferLaurenHandmade.com

I've just bought a digital pattern – where is it?
Purchased directly from my shop:
If you've bought a pattern directly from my online shop, you will receive an email as soon as your order has finished processing (please be patient, this can take a few minutes!) with links to download all of your products.
If you haven't received your email PLEASE CHECK YOUR SPAM! If they still haven't arrived, please email me at jen at jenniferlaurenhandmade dot com (I am in New Zealand, so could possibly be asleep when you do, but I will get onto it asap!)
Please note: You can download your pattern a maximum of three times. There is no time limit to download your pattern(s).
Shop Payments:
At this stage, all payments are through Paypal when purchasing direct from me, however, you do not need to set up a Paypal account. When you are directed through to Paypal, simply click 'Pay with a Credit Card without setting up an account' and you will able to enter your credit card details from here.
If you don't like using Paypal, you can check out using the Direct Checkout Method on Etsy.
Purchased from Etsy: 
Have you verified your Etsy account? If you've set up a new account, Etsy will send you an email to verify your account, if you don't do this, you can't download your pattern.
Once you've made a purchase from my shop, your pattern is available for you to download from your Etsy account immediately. It will always live in your Etsy account should you ever need to download it again.
To find your pattern, head up to the You button in the top right-hand corner of the Etsy screen. Click this and a drop down box will appear. From there, click Purchases & Reviews and scroll down until you find your pattern purchase. Once you've found it, click the blue Download button which will take you to another page. At the top of that page is another Download button, click this and save it to your computer.
Unfortunately Etsy DOES NOT email patterns to you. Sorry!
I've downloaded my pattern, but where is it?
When saving your pattern to your computer, most computers will automatically choose a place to save it, and sometimes these places make absolutely no sense!
So, before you click save, make sure that you've chosen to save your pattern to a folder you can find easily (or to your desk top!) and not just to the folder (within the folder within the other folder) your computer has automatically chosen.
My pattern looks like code when I open it!
My patterns are PDF's so you need a PDF reader to open them. Using Word, Word Pad or Open Office for example WILL result in your pattern looking like code. This is because these are text readers, not PDF readers.
There are lots of PDF readers you can download for free on the internet, I recommend using Adobe Reader.
However, even if you have a PDF reader installed, sometimes your computer automatically chooses to open the pdf using software that can't read it. To stop it doing this, right click your saved pattern and choose 'Open with…' and select your PDF reader.

I have a detailed tutorial on printing and putting my patterns together here, they are designed to print on both A4 and US Letter size paper. ALL pattern pages should print with a border and page numbers in the bottom right-hand corner.
However, some people have encountered issues that are easily resolved, try one of these first if you're having issues –
 My pattern is falling off the page! or My Test Box isn't printing to the correct size!
Before you try anything else, please make sure you are printing your pattern to either 'Actual Size' or 'Scale: 100%' as stated in your pattern instructions. You should not need to centre your pattern.
If it's still not working, try the below –
If you're using a Mac and your pattern is opening in 'Preview', please re-open it in Adobe Reader.
Make sure you have saved your pattern to your computer and are printing from the saved version. Printing a pattern that is open from your internet browser will cause the pattern to not print out correctly.
For everyone else I've encountered with patterns not printing to scale, it's always been because of a pesky printer setting they didn't know was ticked. Try this: below the 'Actual Size' box may be a box called 'Choose paper source by PDF page size' that is ticked. Un-tick this box and try printing again.If that doesn't work, have a look at your printer settings first as there may be something else that is ticked (or un-ticked!) that shouldn't be.

Paper patterns are shipped two times a week on Tuesdays and Fridays.
Patterns are shipped via Airmail which takes approximately 3-10 days to arrive at your door (according to NZ post). However, I'd take that time frame with a grain of salt, so please allow more time if your are wanting it for a specific date, as unfortunately, I don't control the postal system here or in your country. If you would like a faster shipping option, please convo me for a quote.
All tax and import duties are the responsibility of the buyer.
All care is taken to ensure your pattern arrives in pristine condition – however, sometimes things can take a beating somewhere between my house and your house. If your pattern has arrived with damage, please email me.
Unfortunately I cannot take responsibility for missing or incorrect postal information. Please make sure all your contact information is up to date before making a purchase.

What cup size do you draft for?
I draft for a D cup but have just released my first pattern, The Laneway Dress, that has multiple cup sizes included in one pattern (B, C & D Cups).
What currency is your shop displayed in?
All prices are listed in USD.